The puffins flap vigorously to stay aloft, and those with full bellies can only flop across the water. Shearwaters earn their name as they zip over the wavetops. Kittiwakes and fulmars circle a little higher, looking back and forth for prey. And then there is an albatross. Barely moving its long, elegant wings, this bird of birds soars ahead with scarcely an acknowledgment of the mere mortals it leaves behind.
My wife and I were lucky to see these beautiful birds while aboard the M/V Tustumena, a ferry in the Alaska Marine Highway System, en route from Homer (southern Alaska) to Dutch Harbor (at the base of the Aleutian Chain) and back. The voyage covered 1,646 miles and lasted a week, providing plenty of time to get to know our fellow passengers and the crew. We made seven stops along the way, getting a glimpse of life in remote communities where fishing is a way of life and Indigenous ways run deep. In addition to seabirds, we saw dozens of whales, sea lions, harbor seals and sea otters—and even land animals such as foxes, ground squirrels and a swimming porcupine while ashore.
On the surface, life in this stretch of the North Pacific appears abundant and busy. Plenty of ships travel back and forth carrying cargo or heading out to fish. During our trip, we learned to distinguish between tufted and horned puffins and were amused to watch a bald eagle try to blend in with a flock of shearwaters.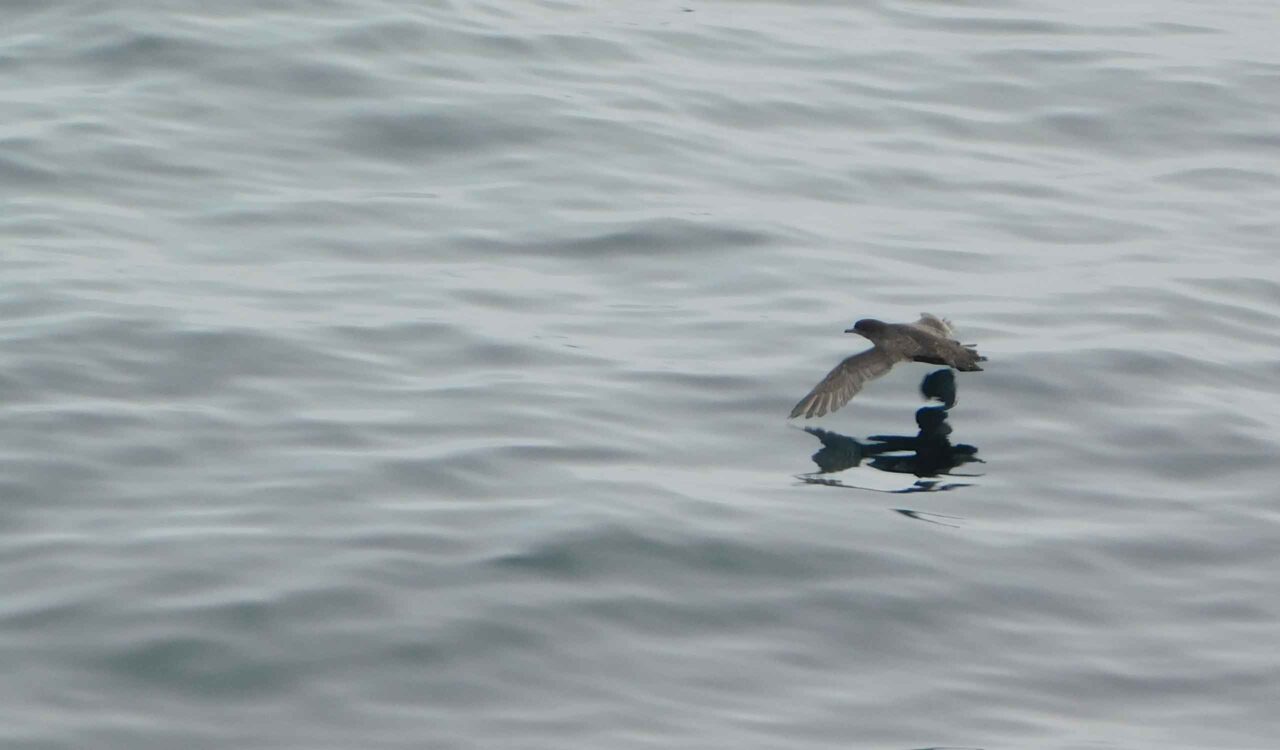 But we also know there is more than meets the eye. Pacific cod in the Gulf of Alaska collapsed in 2019, and the fishery was closed in 2020. The village of Chignik Bay saw few salmon in 2021, an economic and cultural disaster. Without a commercial fishery that year, many residents also decided not to practice traditional fishing lest they endanger future returns, accepting today's sacrifice for tomorrow's hope. One of the ferry's crew had previously worked as a crab biologist but changed careers considering declining crab populations. The crab pots that remain have been found wrapped around whales, a grave concern for the few remaining North Pacific right whales.
Some problems were all too apparent to the naked eye. In Dutch Harbor, we had a picnic lunch on a remote beach. Within minutes, we found a plastic hard hat and filled it with more marine debris and garbage. Two eagles posed picturesquely on a rock outcrop, but a tangle of fishing net sat below them at the tideline, intruding into our photo as well as our enjoyment. Fellow passengers who had taken the journey before spoke of seeing many more birds just a few years earlier, the difference, perhaps, a result of a recent major seabird die-off. While we were impressed with all we saw, we did not realize how much we were also missing.
Our week in this magnificent environment was wonderful and inspiring. It was also sobering as we realized that a healthy ocean is not something we can take for granted. Humans have lived on this coast for thousands of years, but only within the last century have we left such a huge mark on the land and the sea. What must we do to let our descendants enjoy what our forebears have left to us?
The post My Trip Along the Alaska Marine Highway System appeared first on Ocean Conservancy.