For as long as I can remember, I've loved being on the water. I come to it naturally: My mother grew up in a family of sailors, and while I never had the chance to sail with them myself, I spent my childhood hearing about their adventures on Lake Michigan. This is why I was so excited to have the opportunity to join Ocean Conservancy's Global Ghost Gear Initiative® (GGGI) and the Rozalia Project for a cleanup of ghost gear in Maine aboard their 60-foot sailing vessel, the American Promise.
Ghost gear (also called ALDFG or abandoned, lost, or discarded fishing gear) is the most harmful form of marine debris, and at Ocean Conservancy, we are tackling the issue from all angles, from prevention to removal projects. With support from the National Oceanic and Atmospheric Administration (NOAA), the GGGI partnered with the Rozalia Project to organize a sailing expedition to remove thousands of pounds of ghost gear and other debris from remote islands in the Gulf of Maine.
The Rozalia Project is a nonprofit dedicated to addressing the problem of marine debris. A longtime partner of Ocean Conservancy, the Rozalia Project protects and cleans the ocean using technology, innovation and solutions-based research onboard the historic American Promise. Fun fact: The America Promise was used by Dodge Morgan in his record-breaking solo circumnavigation of the planet (a fact my grandfather was delighted to hear). Since its founding in 2010, the Rozalia Project has removed more than 1 million pieces of trash from our ocean and waterways.
In late June 2022, the crew set out on our four-day journey. We began by sailing a little more than 10 nautical miles from Bar Harbor to Corea Harbor, and, right away, the Ocean Conservancy crew was thrown into the action: Under the watchful eyes of our captain and first mate, we were hauling sails, cranking winches and even steering the boat through a minefield of lobster traps. We learned ship terminology and got familiar with every nook and cranny of our home for the next few days. We slept in bunks onboard, allowing us the quickest and easiest access to Maine's thousands of coastal islands.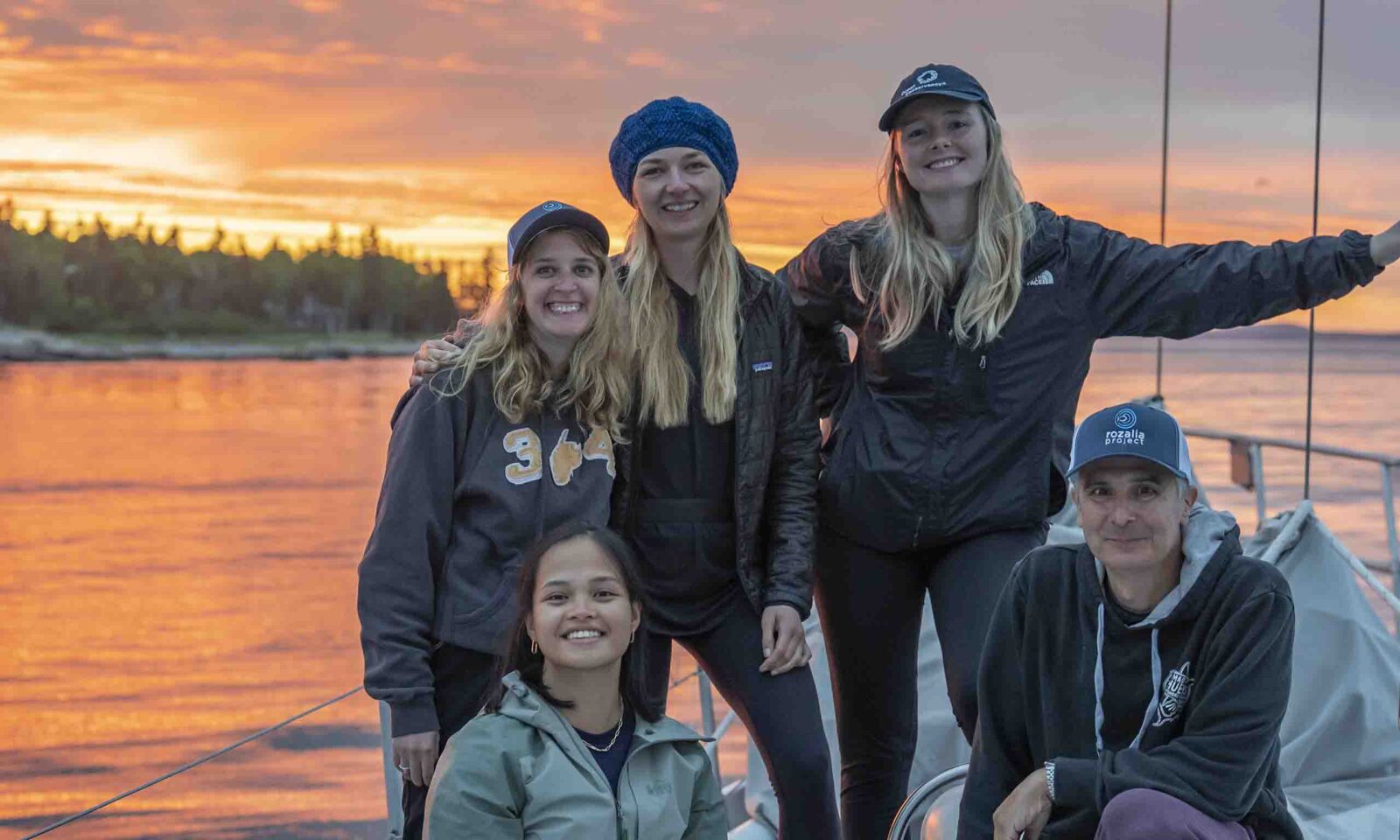 After a night in Sand Cove (and my first anchor watch), we set out for the main event: a cleanup of Outer Bar Island. In my years working with the GGGI team, I've seen plenty of ghost gear, but this sight was on a different level. Half of the island was piled high in every direction with lobster traps, fishing rope, bleach and oil bottles, and other debris. However, it wasn't entirely surprising. Ghost gear is a problem wherever fishing takes place, and in areas like Maine with big fishing industries, the problem is particularly pronounced. Within the United States, it's been estimated that as many as 20-25% of lobster pots are lost annually. In Maine alone, 3 million pots are set every year, potentially adding at least 600,000 new ghost traps to Maine waters annually.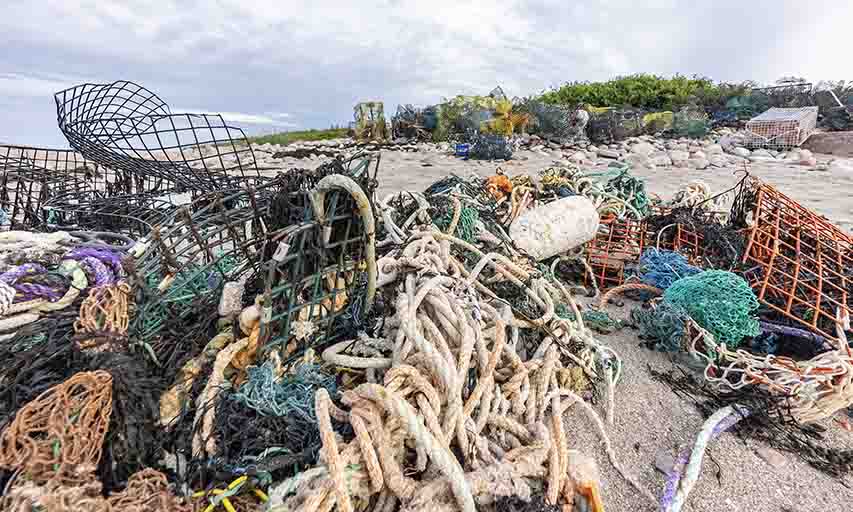 We had our work cut out for us. On the first day of cleanup, we were joined by volunteers from the Maine Island Trail Association, and we split up into teams. Some of us were tasked with disentangling traps, cutting out the bricks used to weigh them down and cutting off any entangled rope, then hauling the gear to small boats to take them to the mainland. Another group took the gear to the mainland, brought it to a dumpster and played a treacherous game of Tetris to get all the traps to fit. It was tough work, but after a single day, we had cleared about a third of the island's debris.
The next day was focused primarily on cleaning some of the smaller trash, like ropes and buoys, along with data collection. All the debris collected during the trip were recorded and added to the GGGI's global data portal, the world's largest repository of ghost gear data. This data is used to better track, understand and address the problem of ghost gear.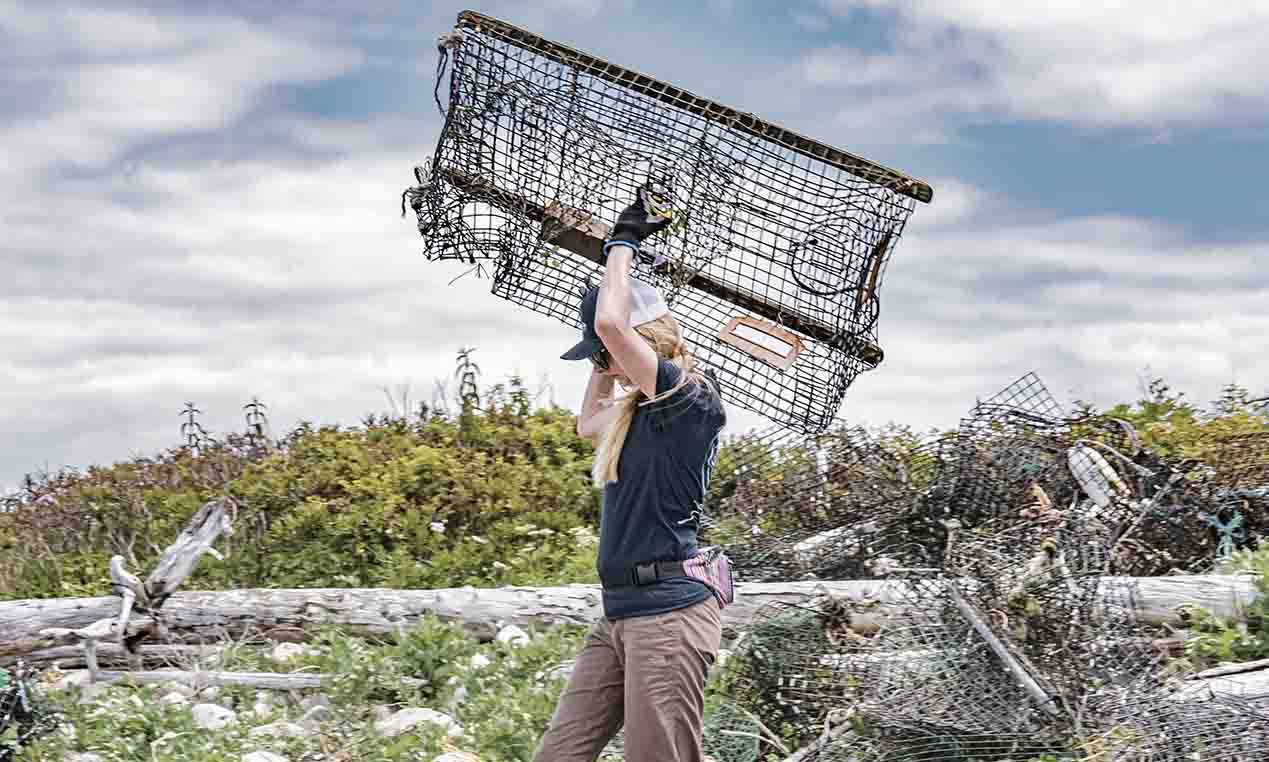 In total, we removed a whopping 4,723 pounds of traps, rope and other debris from the island—and the majority of this, by weight, were traps that could be recycled. We partnered with Rowlands Recycling in Steuben, Maine, to recycle the metal into light iron from the traps we collected.
The final day of the trip was spent sailing about 50 nautical miles down to Rockport, Maine. There the Rozalia Project crew was going to perform maintenance on the American Promise ahead of their plans to continue the cleanup and remove an estimated 7,000 additional pounds of ghost gear later this summer.
As I took the helm of the boat for the first time and steered us past Acadia National Park and through miles of lobster traps, I felt connected to the water, to my family history and to Ocean Conservancy's work in new ways. Even with aching arms and sunburned ankles, I would have happily turned the boat around to do another cleanup.
The post Setting Sail to Collect Ghost Gear in Maine appeared first on Ocean Conservancy.