It's been more than two years since Ocean Conservancy's Florida Conservation Program launched Shores Forward, our flagship initiative to create positive change for our ocean across Florida. We work with local governments to implement on-the-ground projects with local changemakers and partners. We now bring these successes to Tallahassee where we advocate and help craft legislation that protects our ocean.
When we launched our first Shores Forward partnership with City of Miami in 2019, we were eager to help make impactful projects come to life. Since then, working with local governments, we have brought Shores Forward to Miami Beach, Orlando and soon, Pinellas County. Our vision for the future of the Shores Forward initiative is to create a community of practice in which these projects across Florida are catalysts for learning and an undeniable swell of support for our ocean.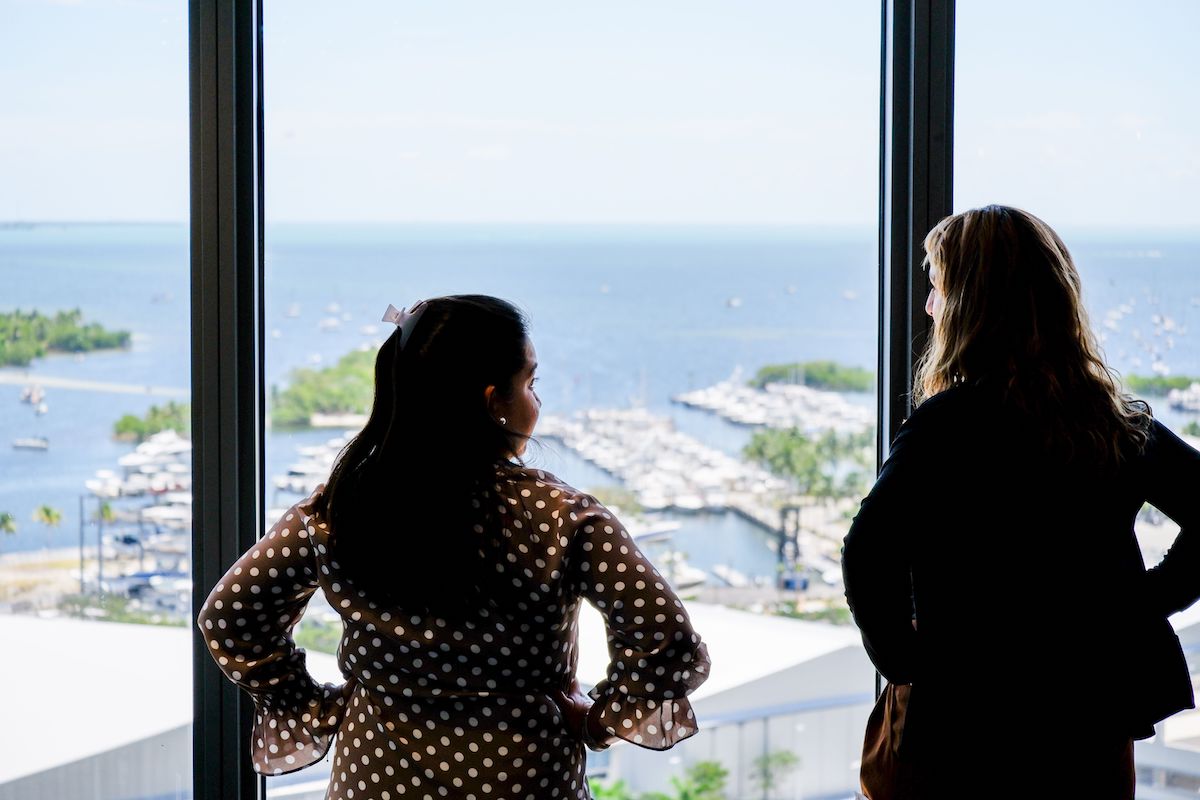 Our goal is for Florida to become the model for innovative and effective marine conservation.
On August 26, we celebrated two years of this powerful work by convening the inaugural Shores Forward Summit. Our partners across south and central Florida joined our Ocean Conservancy team in Miami for an all-day event where we celebrated collective wins and announced exciting upcoming projects.
Staff from City of Miami, City of Miami Beach, Miami-Dade County and City of Orlando participated in panel discussions and brainstorms alongside more than 70 non-governmental organization partners, including Dream in Green, Debris Free Oceans, Healthy Little Havana and Big Blue & You. Ocean Conservancy announced the latest developments in the work to support the findings from the Miami Circularity Assessment Protocol (CAP) with the launch of the CAP Community Action Guide. Professor Jenna Jambeck, from the Circularity Informatics Lab at University of Georgia, shared the methodology of the CAP and key takeaways from the Miami CAP.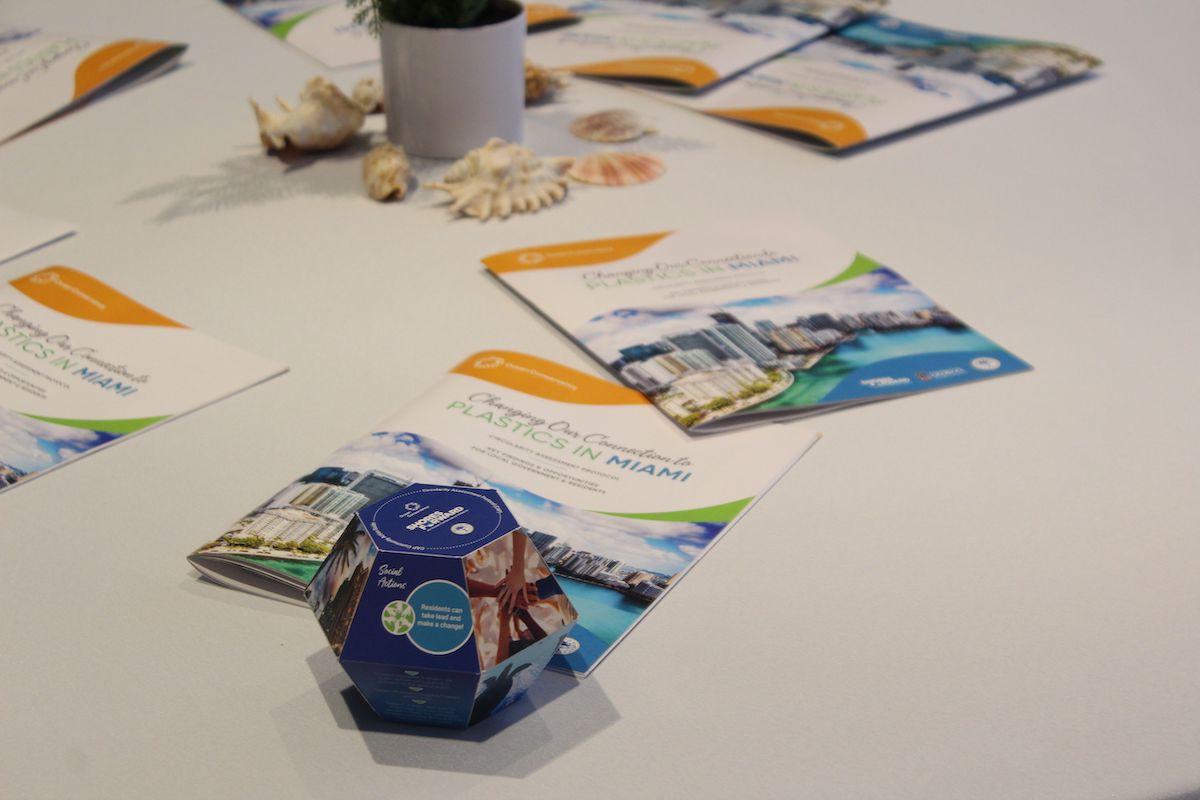 Building on the success and momentum behind tackling marine debris in South Florida, Ocean Conservancy announced a recent award from the National Oceanic and Atmospheric Administration (NOAA) to reduce marine debris in the Miami River and in Biscayne Bay. The two-year grant will fund the expansion and implementation of Plastic Free 305 in key portions of Miami-Dade County, alongside partners Debris Free Oceans and Big Blue & You. Building on the business-focused voluntary campaign to reduce single-use plastics, Ocean Conservancy and partners will work with high school students in eight schools to train the next generation of environmental and sustainability champions to canvas local businesses across Hialeah, Hialeah Gardens, Medley, Miami Springs and City of Miami to eliminate single-use plastics. A panel discussion consisting of Ocean Conservancy, Chief Bay Officer Irela Bague, District 5 Miami-Dade County Commissioner Eileen Higgins, Debris Free Oceans Co-Founder and Executive Director Caiti Waks and Miami Beach Environment and Sustainability Department's Senior Sustainability Coordinator Alyssia Berthoumieux highlighted the need to coordinate across levels of government and the public to move away from single-use plastics.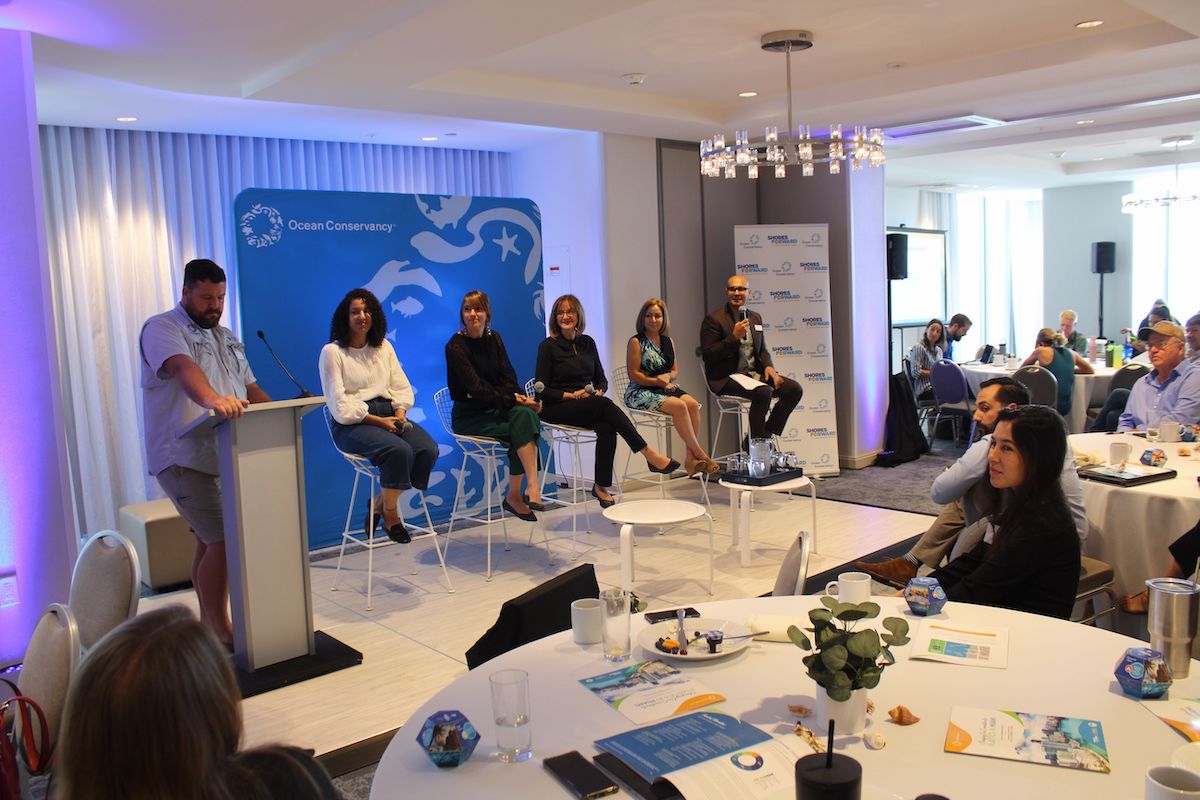 Attendees were also given a sneak peek into City of Miami's Sustainable Events Action Guide. The Sustainable Events Action Guide will be given to all special-event applicants in City of Miami to guide them in organizing a sustainable event. The guide includes information on sustainable transportation and energy use, protecting sensitive habitats and avoiding waste and plastic pollution. Following the sneak peek, we held a Q&A panel on the genesis of the Sustainable Events Action Guide with Miami-Dade County Chief Heat Officer Jane Gilbert, Ocean Conservancy staff and representatives from City of Miami and Ascendance Sustainable Events.
Near the end of the day, key partners in the audience participated in a brainstorming session to capture major takeaways and identify potential areas for collaboration. Ideas spanned from prioritizing the most troublesome plastics to focusing on boater and tourist education. Everyone left with recycled-plastic coasters to commemorate the inaugural Shores Forward Summit.
Attendees agreed that the inaugural Shores Forward Summit was a wholehearted success that left them and Ocean Conservancy staff buzzing with excitement for what's next in Shores Forward's future.
The post Highlights from Ocean Conservancy's Inaugural Shores Forward Summit appeared first on Ocean Conservancy.