At Ocean Conservancy, we are always guided by the latest and best science in our efforts to combat marine plastic pollution. Recent research affirms that we need a suite of solutions to reduce the amount of trash in the ocean, to reduce the amount of plastic we use, to better manage the plastic we need and to clean up the mess we've made.
Although we work on the reduction and management of marine debris, our roots are firmly planted in cleaning up our coastlines. For more than 35 years, Ocean Conservancy has led the International Coastal Cleanup® (ICC) with an amazing group of partners. Since the first cleanup in 1986, we have collected 339,742,521 pounds of trash. While we are proud of those numbers, science tells us that it's not enough. We need to do more, including exploring new ways to keep plastic from reaching the ocean through the utilization of trash traps.
In 2020, Ocean Conservancy began working with the Center for Marinelife Conservation and Community Development (MCD), a leader in ocean protection in Vietnam and a longtime ICC partner, to install trash traps along rivers in Vietnam. MCD created a cost-effective, locally built trash trap that is simple to build and easy to maintain.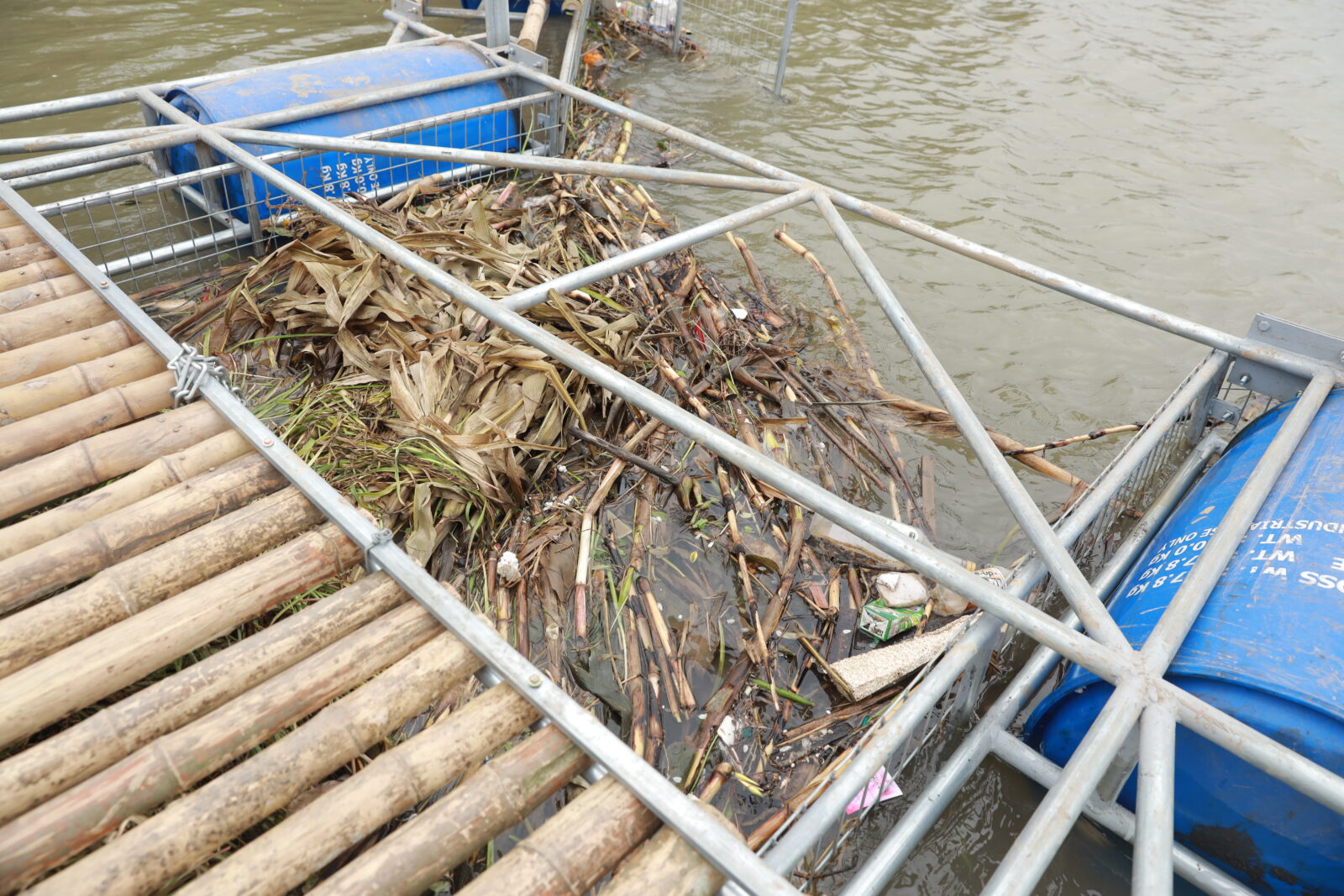 We saw an opportunity to pair MCD's pioneering efforts and deep knowledge of local context with Ocean Conservancy's global reach and scientific expertise. Our goal: to build, test and install simple, effective, low-cost and scalable trash capture devices. Through our partnership, MCD has improved and refined its original design by using stronger steels to increase stability as well as adding lights for visibility and new tools to improve trash capture. We took a big step forward in January 2021 when the first improved trash trap began operations on Vietnam's Red River. This was just the beginning. In June 2022, we installed the second of five trash traps along the Red River in Nam Dinh Province through the same collaboration.
These devices will keep so much trash out of the ocean! We are also analyzing what the traps are capturing to better understand t the volume and types of trash in the river, seasonal variations and other information that will help us engage communities to increase awareness and inform locally appropriate solutions.
We are grateful to be conducting this work with the support of the Clean Currents Coalition. As part of this initiative, our team is one of nine working in different places with different approaches around the world to stem the flow of plastic waste from rivers to the ocean. This means we are not limited to the experience we gain from our five trash traps in Vietnam. We are also able to share and learn from the other efforts of the Clean Currents Coalition to collectively improve trash traps for all of us.
Thanks to the support we receive from people like you, we will take what we learn through this initial effort back to our own deep network of partners around the world, in the International Coastal Cleanup and elsewhere, and will look for new opportunities to support and empower them in our common goal of an ocean free from trash.
The post Meet Vietnam's New Trash Trapper appeared first on Ocean Conservancy.