The plastic pollution problem is vast. Plastics have been found everywhere from the Mariana Trench, the Earth's deepest trough, to the top of Mount Everest, our planet's highest peak. Yet this massive problem is one we can start addressing today. And what is great, absolutely everyone can be a part of the solution.
I am inspired to work to keep our ocean cleaner every day because I'm not alone as I face a tidal wave of trash heading to our ocean. I'm joined by hundreds of thousands of people who join us each year for the International Coastal Cleanup®. Every year volunteers, like you, come out to your beaches, waterways, parks and neighborhoods to pick up trash. This year you can be the change that helps the ocean #SeatheChange. All you need to do is to join our league of ocean heroes and come out and clean up!
The International Coastal Cleanup kicks off this Saturday, September 17, 2022. but you can start working toward a healthier ocean now! Join us for an entire season of action by working to protect our ocean with these helpful tips:
Learn and Take Action
When I work with scientists and community leaders from around the world on this issue of ocean trash, I always discover there is more to learn. Sometimes I find a new dimension to the problem, but I also often find new solutions. As you start on your journey, we have great resources both to dive deeper into the issue and to take action to promote high-impact solutions. I've chosen a few great topics to get you started, but you can always plunge into the latest on Ocean Conservancy's work toward Trash Free Seas® on our blog.
Tiny Plastics Are a Big Problem
The term "microplastics" describes tiny pieces of plastic that are often too tiny to see. While these plastic particles are small, the ocean feels their impact in a big way. Our dependence on plastics in our daily lives has led to widespread contamination of microplastics in some of the most remote places in the world. This is because microplastics are produced when bigger plastic items—such as shampoo bottles, foam cups, plastic bags and even old clothing—break up in the environment. Microplastics impact the health of the ocean, its sea life and even our own bodies due to microplastic contamination in what we eat and drink. What we put in our environment matters—not only for the sake of the planet, but also for our own health. Use your voice to push for policies to help keep microplastics out of our ocean.
From Parks to the Ocean
It isn't hard to understand why we must protect our majestic national parks that remind us of the many natural wonders our planet and our own country hold. Plastic pollution doesn't just threaten our national treasures by sea and land, it can also pollute them from the air. Scientists recently discovered that microplastics can be transported by wind, and more than 1,000 metric tons—roughly the weight of 1,000 elephants—fall onto national park lands each year! Recently, the U.S. Department of the Interior announced an order to phase out the sale of single-use plastic products in national parks by 2030, but there is more we can do now to protect our country's wonders. Take action to push for policies that keep plastics out of our national parks.
The Tale of Ghost Gear
When we think of plastics in the ocean, the image that comes to mind often is that of the kinds of plastics we see in everyday life. Yet the most widespread and deadliest form of debris in the ocean is one you probably haven't seen before: ghost gear. Simply put, this is fishing gear that is lost in the ocean. A single abandoned commercial fishing net is estimated to kill an average of 500,000 marine invertebrates, 1,700 fish and four seabirds. You can learn more about ghost gear by taking our quiz. Then, put that knowledge to work by taking action to tackle this single most harmful form of plastic pollution.
Organize a Cleanup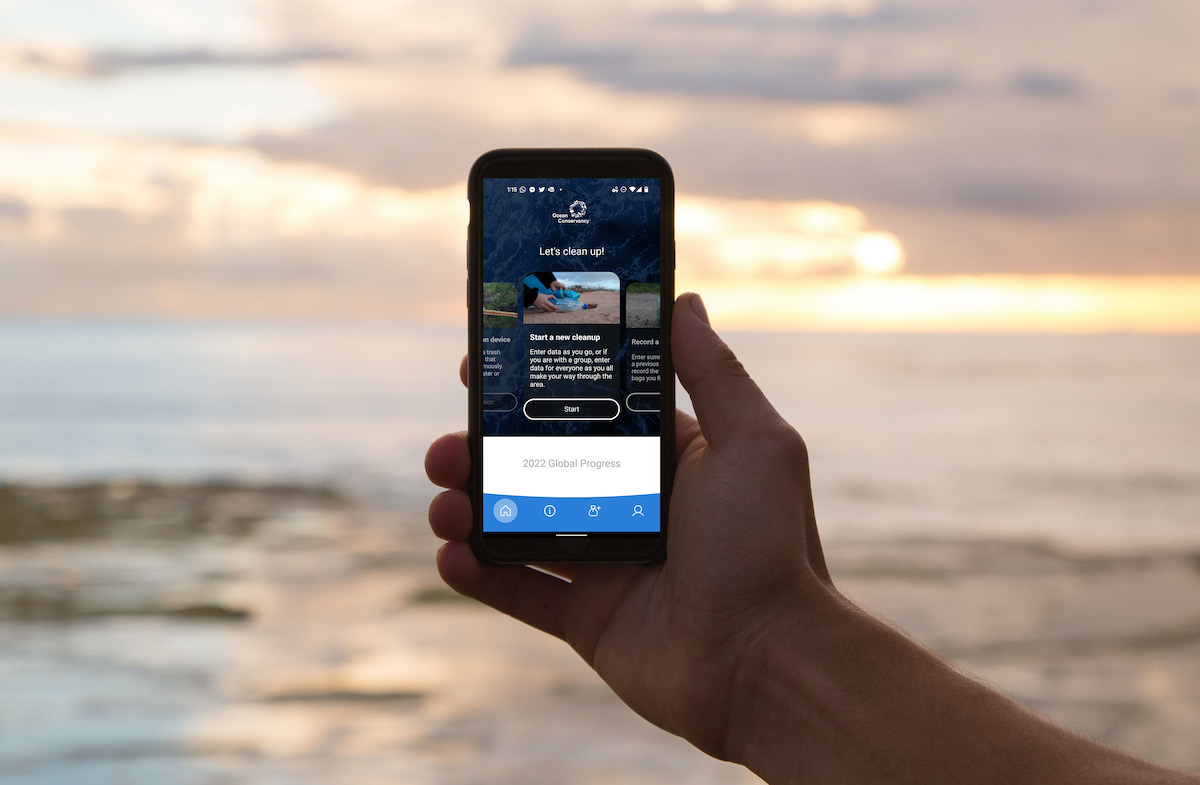 We love watching people come together each fall for a healthier ocean, but that's by no means the only time you can join us for a cleanup. You can use the Clean Swell® app anytime to log a cleanup and help power science and policies that create long lasting solutions to the plastic pollution crisis. Try out plogging to incorporate trash cleanups into your daily run or pick up a few pieces of litter while walking your dog. Get your friends and family involved to help remove trash from a local park before celebrating with your favorite pastime or a nice meal. We've got everything you need to bring people together for a cleanup with our step-by-step guide.
Reduce Waste at Home
One way we can help the ocean is by reducing our reliance on plastics at home. Many of the most common items found by International Coastal Cleanup volunteers can easily be avoided or replaced. Here are some easy places you can reduce plastic waste in your life:
The International Coastal Cleanup is a wonderful time for celebrating ocean advocates like you and inspiring everyone to work towards a cleaner, healthier ocean. You can find even more ways to get involved by texting "ICC" to 69866 or signing up for our email list in the footer below.
The post Three Ways You Can #SeaTheChange appeared first on Ocean Conservancy.