Argo floats
These free-drifting instruments measure a variety of parameters in the ocean that help researchers understand the ocean's response to climate change. This includes regional and global changes in ocean temperature and heat content, salinity and freshwater content, the height of the sea surface in relation to total sea level, and large-scale ocean circulation patterns. Typically deployed from ships, Argo floats autonomously travel from the ocean's surface to a depth of 2,000 meters (over 6500 feet) and back up again, getting a more complete profile of the upper and middle ocean. Click here to see where Argo floats are now.
Ice-tethered profilers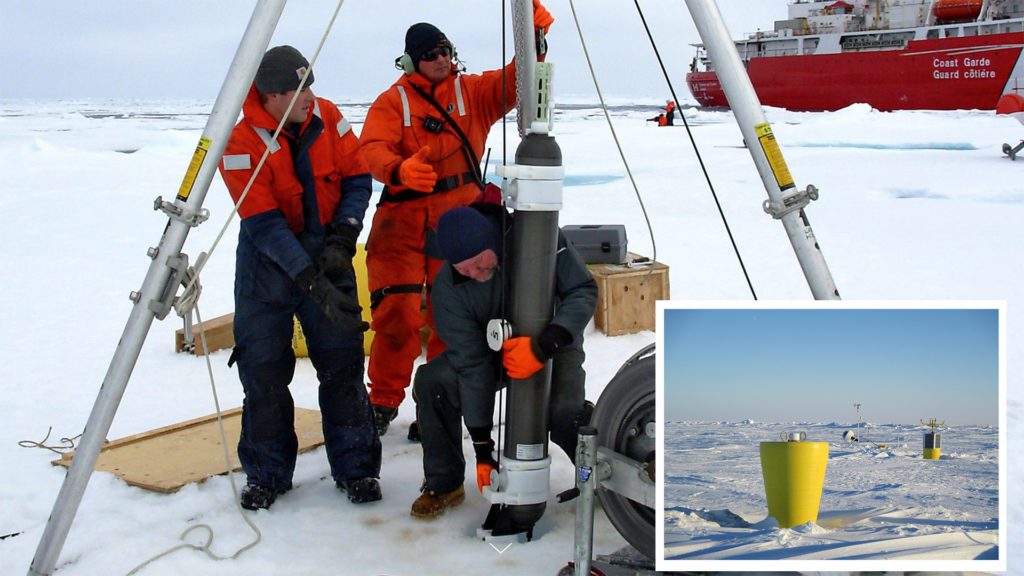 These large, bright-yellow surface buoys sit atop ice floes like construction barrels on a snow-covered highway, tracking ocean parameters around the clock. Hanging from each buoy is a weighted cable that dangles through an 11-inch-diameter hole in the ice and into the ocean. A motorized sensor package travels continuously up and down the tether through various layers of the ocean in yoyo-like fashion, taking continuous measurements of temperature, salinity, and other seawater properties along the way. Data from these profilers, combined with ship-based observations, give scientists the ability to quantify changes over the past several decades and have revealed the unexpected scale and speed of ocean warming.  
Chanos II
Chanos—which is short for The CHannelized Optical System— is an optical sensor that can make rapid measurements of the ocean's carbon chemistry, including Dissolved Inorganic Carbon (DIC) and pH. It can be deployed autonomously from docks, buoys, and mobile platforms like remotely operated vehicles (ROVs), reducing the need and cost of constantly sending scientists out to sea to gather just a few seawater samples. With it, scientists can make valuable observations of how the ocean's chemistry may be changing in response to climate change. For example, it can help determine the extent to which seawater is becoming more acidic as it absorbs increasing amounts of carbon dioxide from the atmosphere.
The Polar Sentinel