Welcome to New Zealand, the perfect hub for an epic adventure in the South Pacific.
In a world where the only true luxury left is the hard-to-find experience, New Zealand via superyacht serves up a full menu of such adventures in one of the world's great natural playgrounds. From steamy geothermal pools and sunny beaches to icy fjords and mountains, it's a land of extremes in every sense. Opportunities for yacht crew and charter guests abound between the North and South Islands' unique cities, diverse geography, and world-class fishing and diving — as well as about 700 smaller islands to explore!
The North Island is home to some of the world's most active supervolcanoes, glowworm caves, Māori cultural events, and the cities of Auckland and Wellington. On the South Island, the wilderness of rugged mountains, lakes, rivers, and fjords offers every type of white-knuckle adventure and outdoor activity imaginable. It's easy to see why this South Pacific nation was voted one of the Top 10 "Best Countries in the World" in Condé Nast Traveller's 2022 Readers' Choice Awards.
New Zealand is perfectly positioned as a refit, cruising, and charter hub for exploring the South Pacific. A well-established infrastructure of top-rated builders, refit yards, backup facilities, and services supports every possible yachting need. The South Island has long served as a global gateway for exploring Antarctica. And, as the Asia Pacific Superyacht Association would have you know, this 36th America's Cup winner is "still the hottest sailing destination on the planet!"
The best time of year for cruising Down Under is during the summer season from December to April. Added bonus: New Zealand is out of harm's way during the northern Pacific's typhoon season. Here are some other helpful things to know before you go. 
Time zone

: UTC + 12 (May–Aug.) / UTC+13 (Sept.–April)

Electricity

: 230 V / 50 Hz

Currency

: New Zealand dollar (NZD)

Calling code

: +64

Emergency call

: 111

Coastguard rescue

: Channel 16
Customs and Clearance
Upon arrival at a port of entry, you will be met by officers from the New Zealand Customs Service and the Ministry for Primary Industries. All people and goods must remain on board until the vessel has been cleared. If arriving somewhere other than a port of entry, you must report immediately to a customs or police officer. Do not anchor in New Zealand waters (within 12 nautical miles from the coast) before customs clearance.
As of October 2022, there is no requirement for a COVID vaccination or negative COVID test prior to arrival, whether by sea or air, and no mandatory quarantine. (This is not always the case in neighboring South Pacific destinations, such as Tahiti and Fiji, so keep that in mind when planning your itinerary.) 
Nationalities that are on the New Zealand Immigration waiver list do not need to apply for a visitor's visa before arriving. Besides Australians, the waiver applies to citizens of Canada, the U.K., the U.S., and most European countries. The full waiver list can be found at immigration.govt.nz. Those who do not require a visa must apply for an NZeTA (New Zealand electronic Travel Authority). Most requests are processed within 72 hours but some may take longer, so it's best to request an NZeTA well in advance of arrival. The NZeTA is valid for many visits and up to 2 years.
New Zealand has strict biosecurity rules. This applies to biofouling and ballast water, as well as to any other hitchhiking weeds or pests that may be onboard your boat that could harm New Zealand's wildlife. Once in New Zealand, you will go through a six-step biosecurity process, including an inspection. If staying 21 days or longer, you must provide evidence of biofouling management before you arrive.
If you have restricted or prohibited foodstuffs and goods aboard, they must be declared on your arrival card. Such items include fruit, vegetables, meat, fish, poultry, honey, dairy products, sports and other outdoor equipment, wooden items, seeds, and plants (dead or alive). Some restricted items may be allowed in with a permit or after undergoing treatments such as fumigation (at the yacht's cost). 
Prescription drugs that contain narcotics must be accompanied by a doctor's certificate stating that the medication is necessary and is being used under a doctor's instructions. It is recommended that all medications be kept in their original, pharmacy-labeled containers and the amount on board not exceed a three-month supply.
Vessels entering New Zealand waters are required to declare all firearms and weapons on board — including pepper spray and airguns. You will be expected to surrender all restricted weapons to the police, who will secure the weapons and return them when the boat leaves New Zealand waters. Handguns may be locked into a secure enclosure and sealed on board if under the control of a New Zealand Firearms License holder of the correct category.
Visiting yachts that apply for a Temporary Import Entry (TIE) certificate from New Zealand Customs prior to arrival can stay for up to 24 months without paying duty charges, and can purchase goods, equipment, and services exempt from the 15% goods and services tax, provided the goods or services are for the yacht and/or leave with the yacht. This includes berthage costs, as well as repairs or refitting work completed while in the country. 
Crew members are not required to pay tax as long as they are not in the country for more than 365 days in any two-year period and are not employed by a New Zealand resident or New Zealand-controlled company.
Ports of Entry
Superyachts 500 tonnes or more will need to hire a pilot to enter New Zealand ports. For an exemption when visiting Auckland, email the Auckland harbormaster at andrew.hayton@at.govt.nz. Here are the ports/marinas approved as yacht arrival points, listed geographically from north to south.
Northland
Auckland
Tauranga
Picton
Christchurch
Charter Rules
Under the New Zealand Maritime Transport Act, ships are considered pleasure craft and not commercial vessels if they are:
Not used for hire or reward.

Used exclusively for the owner's pleasure or as the owner's residence.

Not operated or provided by a business.*
Foreign-flagged superyachts that comply with Maritime New Zealand requirements may be used for commercial charter for up to 65% of the total time they are visiting New Zealand. Special provisions apply to gain regulatory consent from Maritime New Zealand, New Zealand Customs, and the Inland Revenue Department. Find out how domestic laws and regulations apply to your vessel, and whether exemptions may be sought, at nzmarine.com. Or contact a local superyacht agent, who can process all the necessary paperwork as well as answer your questions.
*If the vessel is operated or provided by a business, an exemption from commercial charter requirements — which must identify the owner — may be applied for through Maritime New Zealand. For more information, visit: maritimenz.govt.nz/rules
Yacht Agents
Accredited agencies that specialize in superyacht service, whether crew placement, provisioning, and itinerary/charter logistics; or customs and regulatory documentation; or repairs, spare parts, refits and maintenance needs.
37 South | 37southyachts.com
service @37southyachts.com

+64 9 302 0178
AGents by Catalano | catalanoshippingpacific.com
duthie@catalanoshipping.com

+64 21 409 802
Integrated Marine Group | integratedmarine.com
mark@integratedmarine.com

+64 21 759 157
Reid Yacht Services | rys.co.nz
 info@rys.co.nz

+64 9 368 9301
Marinelogix | marinelogix.co.nz
info@mlx.co.nz

+64 21 616 407
Tidal Yachting Ltd | tidalyachting.com
info@tidalyachting.com

+64 22 030 5856
Oceania Yacht Agency | oceaniayachtagency.com
agent@oceaniayachtagency.com

+64 9 430 3148
Urban Sea | urbansea.co.nz
karma@urbansea.co.nz

+64 021 054 6024
Diverse Projects | diverseprojects.com
jv@diverseprojects.com

+64 09 358 5331
International Airports
Auckland International Airport (AKL)

Christchurch International Airport (CHC)

Wellington International Airport (WLG)

Dunedin International Airport (DUD)

Queenstown International Airport (ZQN)
Regional flights within New Zealand are available at Palmerston North Airport (PMR) and Hamilton Airport (HLZ).
Helpful Websites
Official guides on visiting New Zealand. (newzealand.com)
New Zealand Customs Service information, including mandatory documentation. (Email questions and advance requirements, such as TIE applications, to yachts@customs.govt.nz) (Customs.govt.nz)
Prohibited and restricted items that must be declared upon arrival. (customs.govt.nz/personal/prohibited-and-restricted-items)
National regulatory, compliance, and response agency for the safety, security, and environmental protection of coastal and inland waterways. (Maritimenz.govt.nz)
Information on weapons regulations. (police.govt.nz)
Still waiting for your visa? Have questions? Contact New Zealand Immigration at this website. (While in New Zealand, you can contact the Immigration call center at 0508 558 855.) (immigration.govt.nz/contactus)
Ministry for Primary Industries information on biosecurity inspections and what you can and can't bring into New Zealand. (mpi.govt.nz)
Superyacht Marinas & Moorings
Northland
– Bay of Islands Marina
+64 9 402 7124
Berthage up to 328 feet (100m)
PORT OF ENTRY
– Marsden Cove Marina
+64 9 432 7740
Berthage up to 100 feet (30m)
PORT OF ENTRY
– Port Nikau
+64 27 423 8064
Berthage up to 393 feet (120m)
Auckland
– Bayswater Marina
+64 9 446 1600
Berthage up to 164 feet (50m)
– Viaduct Harbour Marina
+64 9 373 4141
Berthage up to 197 feet (60m)
PORT OF ENTRY
– Silo Marina
+64 9 355 1837
Berthage up to 460 feet (140m)
PORT OF ENTRY
– Orams Marine
+64 9 309 9999
Berthage up to 328 feet (100m)
– Gulf Harbour Marina
+64 9 424 6200
Berthage up to 164 feet (45m)
Tauranga
– Tauranga Bridge Marina
+64 7 575 8264
Berthage up to 122 feet (37m)
Crew Go-To List
– Medical 
The Doctors QuayMed Wynyard Quarter  
+64 9 930 9980
58 Gaunt Street Auckland Central
– Pharmacy 
Unichem Wynyard Pharmacy
+64 9 302 0367
58 Gaunt Street, Auckland CBD
– Dental 
City Dental Lounge 
+64 9 366 1322
Level 12 AON Centre, 29 Customs Street W, Auckland CBD
– Supplies 
Burnsco 
+64 9 379 4591
129 Westhaven Drive, Westhaven, Auckland
– Provisioning 
The Produce Company 
0800 776 382
25 Hannigan Dr, St Johns
– Bakery 
La Petite Fourchette
+64 9 869 3360
G02/85 Daldy St, Wynyard Quarter
– Laundry 
Easy Wash Laundromat 
+64  9 378 9986
1-3 Cowan Street, Ponsonby, Auckland
– Regal Drycleaners 
+64 9 520 6040
66 Jervois Road, Herne Bay
– Post office 
NZ Post Shop 
0800 501 501
15 Hardinge Street, Auckland Central, 
– Bank 
ASB North Wharf 
09 337 2892
12 Jellicoe Street, Auckland Central
– Salon & Spa 
The Spa | Park Hyatt 
+64 9 366 2525
 99 Halsey St, Auckland   
– Ponsonby Cosmetic Medical Clinic 
+64 9 360 4078
86 College Hill, Freemans Bay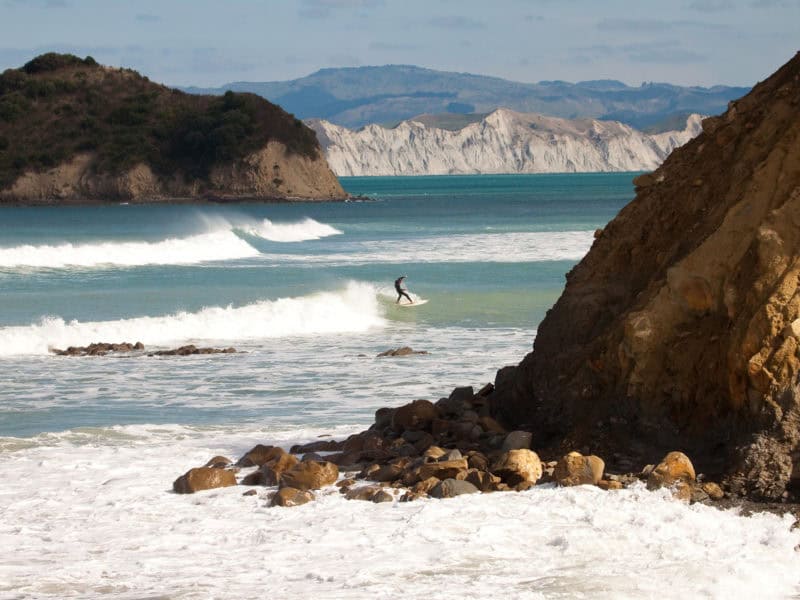 Click here for a guide to Auckland's cafes and here for a guide to Auckland's neighborhood bars. 
NZ Marine (nzmarine.com), Superyacht New Zealand (superyachtnewzealand.co.nz/), and Isla McKechnie of Albatross PR contributed to this report. 
Topics: